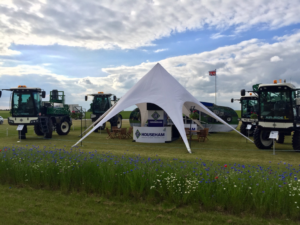 British sprayer manufacturer Househam will be launching its new 'operator-inspired' self-propelled sprayer the HARRIER, at Cereals 2018.
Designed and built directly from operator feedback, the HARRIER is the latest addition to the Househam range, all built in Lincolnshire, replacing the popular, six-year-old MERLIN.
It will be on display in the Syngenta Sprays and Sprayers Arena at Cereals 2018 near Duxford in the morning of June 13th, and will be launched officially on stand 800 at 11am.
The 'next generation' machine comes fitted with Househam's trademark Total Machine Control (TMC) V3 and FieldMaster GPS advanced on-board operating system, delivering what its makers believe to be the most efficient and precise sprayer application in its class.

Robert Willey, managing director of Househam, said: "We're extremely proud to be launching the HARRIER to our customers at Cereals. The HARRIER has been built in direct response to feedback from operators and has been developed by the people who use it every day. It's our next generation sprayer, made in Britain, and we've placed performance, efficiency, comfort and reliability at the heart of a world-leading design."
Weighing as little as 8,500kg unladen*, the HARRIER has an advanced, single piece chassis fitted with front and rear A-frame axles for optimised weight distribution.
With a twin or triple-fold boom and high capacity tank of either 4,000, 5,000 or 6,000-litres, it's built with a Tier-4, six-cylinder engine that delivers 240 hp.
The fully-enclosed, side-mounted spray tank system has been entirely re-engineered with minimum pipework for ease of maintenance, drawing from the sump for added ease of use.
While its Category 4, ROPS-approved Excalibur cab provides maximum visibility and a quieter, more comfortable operating environment for all-day field work.

The HARRIER comes with a range of technologies designed to maximise application accuracy and productivity, including Househam's Auto Nozzle Select (ANS) system for a constant, accurate application, Househam's automatic hands-free steering Spray Pilot system and the Househam Intelligent Transmission System (HITS) to regulate maximum speed on and off road.
Additional features include 1m unobstructed underbody clearance to minimise crop damage and a high-capacity, 300-litre fuel tank.
It has Househam's most advanced on-board operating systems built-in, combining its TMC V3 and FieldMaster GPS systems. Operators can control a whole range of functions from one easy-to-use touchscreen console, including application rate control, engine management, diagnostics, hydrostatic drive control, field mapping and auto-section control.
It also comes with built-in warnings, fault detection and automatic service reminders as standard.
The HARRIER comes with twin fold or triple fold boom, from 24m up to 36m, as well as fully variable geometry boom leveling, self-levelling suspension and an air ride load sensing suspension system.
Soil compaction is kept to a minimum thanks to the HARRIER's perfectly balanced weight distribution between the front and rear axles.
HARRIER technical specifications:
High capacity spray tank capacity 4000, 5000 or 6000 litres

Dry weight from 8,500kg*

Total Machine Control (TMC) with integrated FieldMaster GPS mapping system

Twin fold or triple fold boom system: 24,30,32,36m

MTU 6R1000 240hp Tier 4, six-cylinder engine

300 litre fuel tank

1m unobstructed underbody clearance
*Depending on model specifications
For more details visit househamsprayers.co.uk.