Househam will be displaying the advanced self-propelled Air-Ride sprayer at Agrii Northern Farming Conference.
The Househam team will be showcasing the AR3500 Air-Ride sprayer at Bishop Burton College in Beverley on Wednesday 14th January.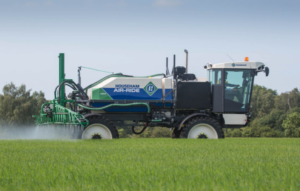 Robert Willey, managing director at Househam, said: "The conference is a long-standing event in the agricultural calendar and we expect this year will give attendees a real insight into the challenges and opportunities facing the industry.
"It's a great chance for us to display our advanced sprayer technology. The versatile Air-Ride is packed with features to boost spraying productivity and we're looking forward to showcasing our best selling machine with visitors.
"British engineering is once again in high demand on an international level, especially in regions where farming is rapidly modernising. The conference will be a great chance to share knowledge, experience and expertise."
Simon Hornby, regional business development manager at Agrii said: "We're really pleased to have a leading Lincolnshire manufacturer like Househam taking part and exhibiting at Agrii Northern Farming Conference.
"The team is showing a real commitment to training the next generation of farmers and engineers. We're confident visitors will be inspired by the great range of manufacturers and experts speaking and exhibiting this year."
The event will bring together farmers, growers and industry leaders for a day of keynotes talks, seminar discussions and exhibitions from machinery manufacturers, technology providers and plant breeders.
Find out more about the Air-Ride here.