In a drive to expand further into Scotland, we have appointed a new area sales manager based in Dundee.  
Tom Bannon has joined us following many years working in agricultural machinery sales and farming both in the UK and abroad.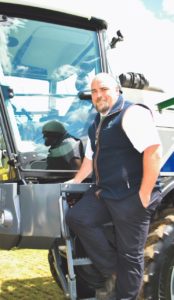 Most recently he worked for Hamilton Ross Group in Perth and prior to this as a self-propelled crop sprayer operator on a large estate in Scotland, as well as in Australia and New Zealand.  
Explaining why he decided to work for Househam, Tom said he was impressed by the team's commitment and passion for what they do. 
"The engineers are very enthusiastic and speak highly of the company – they take a lot of pride in their work, and this translates through to the product," he said.   
"When they put so much effort into building the machines it gives you the confidence to go out and sell them." 
Having driven many different brands Tom says he has a unique insight into the pros and cons of each brand and what makes Househam so unique.  
"Househam Sprayers offer a very well-equipped base machine, but they can also tailor-make them to meet the customer's requirements," said Tom. 
"If you want something in particular, they can design and build it which is great as everyone farms differently." 
Although we have always sold machines to farmers and contractors in Scotland this is the first time we've had a dedicated area sales manager. Our team is also currently in talks with service partners covering the whole of Scotland to provide back-up and carry out any required warranty work.
Managing Director Robert Willey said Tom's appointment is part of Househam's ambitious expansion plans. 
"There's a big market for self-propelled sprayers in Scotland and our machines will fit in very well there," explained Robert.  
"They are well placed to compete with everything else on the market and having a dedicated team there will not only help us provide an even better service to our existing customers but also forge relationships with new ones. 

"We are always looking for new markets and opportunities to expand as part of our ambitious growth plans and Scotland offers a wealth of opportunities."